Urfi Javed-Chhatt Khanna Fight : Although Internet sensation Urfi Javed remains in the news due to his fashion sense and style, but recently Urfi is in the headlines due to a quarrel with a famous actress Chahatt Khanna. Actually Chahat Khanna commented on Urfi's clothes, which the actress did not like at all. Just then what was it, Urfi got furious and he heard Chahat fiercely.
After listening to Urfi's sarcastic words, Chahat did not sit still and he turned back and again replied to Urfi. There was such a tussle between the two that the posts of both of them became viral on social media. But now the question arises that why suddenly Chahat commented on Urfi's clothes? Chahat himself has given the answer to this question.
'It was getting hard to bear'
When ETimes asked Chahat Khanna about this, the actress said, "To be honest, nothing has happened, it is just that it was getting difficult to tolerate this stupidity on social media for the last several months. So finally I talked about it and he answered according to his class." On the other hand, talking about Urfi Javed, he is currently admitted in Kokilaben Hospital. Urfi has been admitted to the hospital on August 6 after complaining of fever, although it is not yet known what happened to Urfi.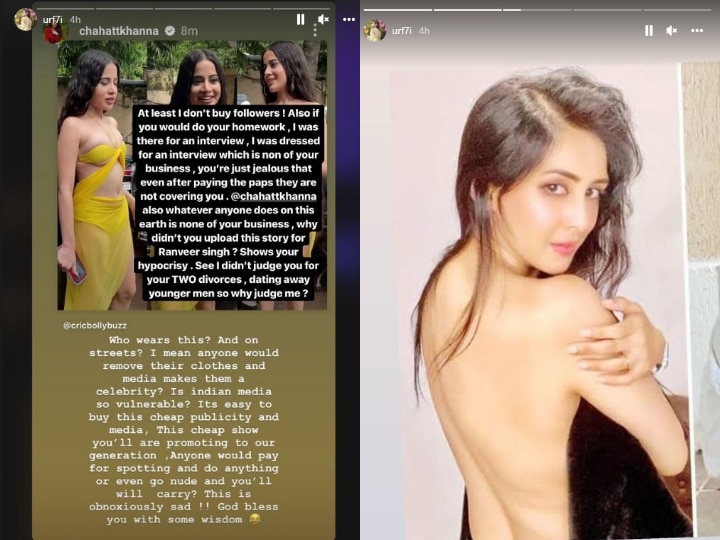 Let us tell you that in the past, Urfi was spotted in a transparent dress of yellow color. Chahat had made fun of this dress of Urfi and also took a dig at the media. After which Urfi had targeted Chahat while referring to her divorce.
Read also: Kalki Koechlin was seen extracting breast milk from the pumping machine before the shoot, fans said – you are a strong mother
Read also: Neena Gupta on Vivian Richards said- 'If it were so bad then why would I have had a child'