Neha Kakkar Trolled For New Song: Bollywood singer Neha Kakkar has recently released her song O Sajna. Choreographer Dhanashree Verma is also seen with her in this song. This song by Neha Kakkar is a recreation of Falguni Pathak's superhit song 'Maine Payal Hai Chankai'.
Neha Kakkar has come under the target of Falguni Pathak's fans regarding this song. Singer is being trolled badly on social media. Users are accusing Neha Kakkar of ruining the iconic song. In the midst of all this, singer Falguni is also seen angry with Neha Kakkar. Falguni is constantly sharing troll comments and memes made by users on Instagram.
Let us tell you that recently Neha Kakkar has made a remake of Falguni Pathak's superhit song 'Maine Payal Hai Chhankai', the name of her song is 'O Sajna' which has been introduced with a new avatar and melody. Neha Kakkar is doing a wonderful dance in the song. The music video also features TV star Priyank Sharma.
This song of Neha is getting abused on social media. Fans are unable to digest this song in Neha's voice. This song is a superhit song of the 90s, which is still on the tongue of every child of that time. Children and youth of that time used to like this song very much.


Falguni Pathak has shared many memes and messages trolling Neha Kakkar on Instagram. It is clear that he too is not happy with this recreated song of Neha. Falguni Pathak has shared the reactions of all the fans on her Instagram account. In every post, questions have been raised about Neha's singing.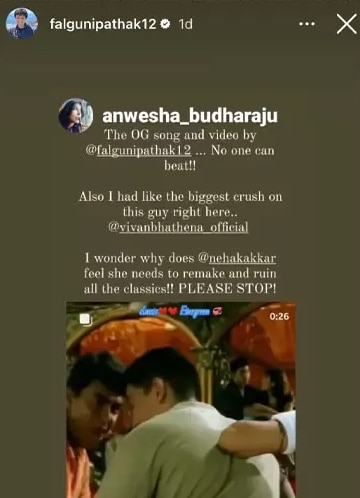 A user has requested Neha to use her brain to make some good song. At the same time, one wrote, "Sorry but by singing this song you have messed with our childhood memories."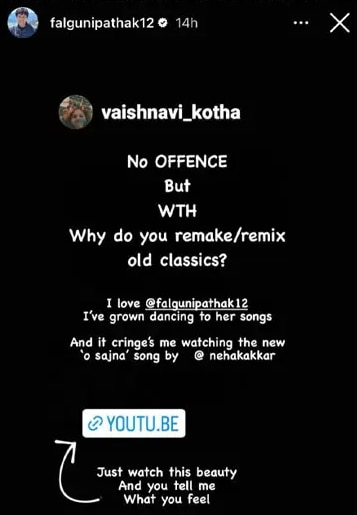 Another user said that Neha is trying to earn money by using the song which is already a superhit. Someone wrote, "Stop this sin. Please someone stop this auto tune singer and his remake. ,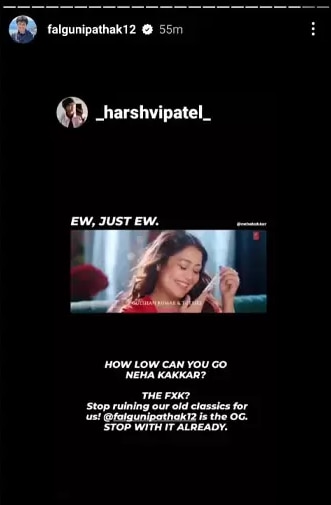 A user asked Falguni Pathak to file a case against Neha. This song has been made under the banner of T-Series, for which a user also commented about T-Series, he wrote that the root of all this turmoil is T-Series.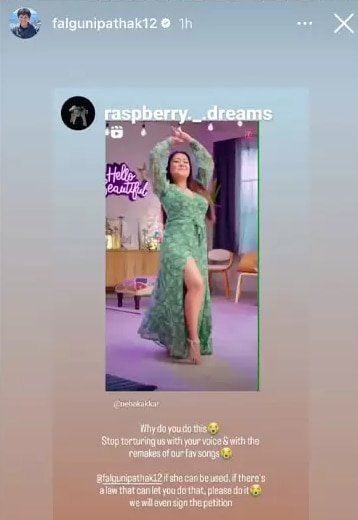 The song O Sajna has been composed by Tanishk Bagchi. This song has been filmed in a romantic love story with a new fusion. In the song, Priyank Sharma is seen trapped between Neha Kakkar and Dhanshree Verma.